De hele aarde wordt vol van GLORY.  De Nederlandse tekst staat hieronder.
The whole earth will be full of GLORY.
While beautiful flowers are blooming, a lot of weeds are also growing.
Spring is wonderful!
Everything is becoming fragrant and colorful!
But weeds are also growing…
You see that in the spiritual world, too.
Wherever the Love of God is, there is always also a lot of opposition and hate.
When the Lord Jesus had just been born, there came an enormous hatred towards newborn babies and King Herod had all the little boys killed in the hope that one ROYAL CHILD would be included in them. Fortunately, Joseph and Mary fled to Egypt with little Jesus.
So you see that the LOVE of God the FATHER now, too, brings about an enormous hatred in these times. You see that, while the Kingdom of God is taking up more space, hatred towards the children of God is growing. Because of that we will need to cling more tightly to the Lord Jesus. In Psalm 63:8 it says: "My soul clings to you." In the Bible there is a beautiful illustration of a stone that comes loose from the mountain slope and rolls downward. It shatters a great statue (which represents all the kingdoms of the world) and that stone grows into a great mountain that covers all the earth. That stone is about the Lord Jesus. When He gave Himself to die for the sins of all people and rose again from the dead, He smashed all the kingdoms of the earth, and He HIMSELF grows into a mountain that fills the whole earth.
The earth becomes filled with HIS GLORY!
You can compare it to a snowball that you roll down a hill, that keeps getting bigger and bigger. More and more snow sticks to that ever-growing snowball. In the end, you make a big snowman from it!
But imagine that you didn't stop rolling that enormous snowball, and it kept rolling, so that finally it filled the whole earth…then it would seem a bit like the dream of Nebuchadnezzar of Babylon.
Are you familiar with that particular second chapter of Daniel? It's where Daniel tells Nebuchadnezzar of the dream he dreamed. God told him that during the night. The king was so upset about his dream that he didn't want to tell what he had dreamed. And that's why he looked for someone who could tell him not only what he had dreamed but also its interpretation.
Daniel said to the king:
"In your vision, Your Majesty, you saw standing before you a huge, shining statue of a man. It was a frightening sight. 32 The head of the statue was made of fine gold. Its chest and arms were silver, its belly and thighs were bronze, 33 its legs were iron, and its feet were a combination of iron and baked clay. 34 As you watched, a rock was cut from a mountain,[a] but not by human hands. It struck the feet of iron and clay, smashing them to bits. 35 The whole statue was crushed into small pieces of iron, clay, bronze, silver, and gold. Then the wind blew them away without a trace, like chaff on a threshing floor. But the rock that knocked the statue down became a great mountain that covered the whole earth.
36 "That was the dream. Now we will tell the king what it means. 37 Your Majesty, you are the greatest of kings. The God of heaven has given you sovereignty, power, strength, and honor. 38 He has made you the ruler over all the inhabited world and has put even the wild animals and birds under your control. You are the head of gold.
39 "But after your kingdom comes to an end, another kingdom, inferior to yours, will rise to take your place. After that kingdom has fallen, yet a third kingdom, represented by bronze, will rise to rule the world. 40 Following that kingdom, there will be a fourth one, as strong as iron. That kingdom will smash and crush all previous empires, just as iron smashes and crushes everything it strikes. 41 The feet and toes you saw were a combination of iron and baked clay, showing that this kingdom will be divided. Like iron mixed with clay, it will have some of the strength of iron. 42 But while some parts of it will be as strong as iron, other parts will be as weak as clay. 43 This mixture of iron and clay also shows that these kingdoms will try to strengthen themselves by forming alliances with each other through intermarriage. But they will not hold together, just as iron and clay do not mix.
44 "During the reigns of those kings, the God of heaven will set up a kingdom that will never be destroyed or conquered. It will crush all these kingdoms into nothingness, and it will stand forever. 45 That is the meaning of the rock cut from the mountain, though not by human hands, that crushed to pieces the statue of iron, bronze, clay, silver, and gold. The great God was showing the king what will happen in the future. The dream is true, and its meaning is certain."
You can read the whole chapter here:
https://www.biblegateway.com/passage/?search=Dani%C3%ABl+2&version=NLT

For years now I have been very interested in this one little sentence: "But the stone that struck the image became a great mountain and filled the whole earth."
WOW!!!! The kingdom of HEAVEN will become so great that it will cover the whole earth! What a wonderful prospect.
But fear is constantly being stirred up. Yes, indeed. Love grows cold. People become hardened. Harsh words are spoken to each other, and one person knows everything better than the other…But in the end, it says very clearly in the book of Daniel, we can't know or understand or interpret everything. Much will remain a secret until God reveals it. Until then we must remain careful with all our own interpretations of the end times.
"Then there will be a time of anguish greater than any since nations first came into existence. But at that time every one of your people whose name is written in the book will be rescued. 2 Many of those whose bodies lie dead and buried will rise up, some to everlasting life and some to shame and everlasting disgrace. 3 Those who are wise will shine as bright as the sky, and those who lead many to righteousness will shine like the stars forever. 4 But you, Daniel, keep this prophecy a secret; seal up the book until the time of the end, when many will rush here and there, and knowledge will increase."
https://www.biblegateway.com/passage/?search=Daniel+12&version=NLT

Much is happening right now.
The mountain of Jesus' LOVE is growing and becoming greater and will, in the end, cover the whole earth. God's Kingdom will win! The kingdoms of the earth have already fallen, through the coming and the suffering, death and resurrection of the Lord Jesus.
Caption for photo: "Truly, I say to you, whoever says to this mountain, 'Be taken up and thrown into the sea,' and does not doubt in his heart, but believes that what he says will come to pass, it will be done for him."
That one STONE has already rolled down from the mountain and smashed the gigantic statue. And that STONE is already growing into a mountain. Everyone who clings to the Lord Jesus (just like snow clings to the snowball) belongs to the Kingdom of God that will fill the whole earth. Soon there will be no more room for fear and hate. Every mountain of hate and fear and intimidation and power and sickness will yield to the NAME of the Lord Jesus! Everything will bow before King JESUS!
How wonderful to cling to the Lord Jesus!
What great news that His Glory will fill the whole earth!
You can already taste it…you smell the heavenly fragrance…you worship the Great Almighty God and Father!
Make sure your heart is full of HIS Glory, too.
Let all fear and uncertainty be driven out by allowing a mountain of LOVE to grow in your heart, and let that mountain keep growing until your whole heart is full of the Love and power of the Holy Spirit!
............................................................................................................
Terwijl de mooie bloemen bloeien, groeit er ook veel onkruid.
Voorjaar is heerlijk!
Alles geurt en kleurt!
Maar ook het onkruid groeit....
Dat zie je ook in de geestelijk wereld.
Waar de Liefde van God is, is ook altijd veel tegenwerking en haat.
Als de Here Jezus net geboren is dan komt er een enorme haat tegen pasgeboren baby's en laat koning Herodes alle kleine jongetjes doden, in de hoop dat dat ene KONINGSKIND er ook bij zal zijn....Gelukkig vluchten Jozef en Maria met de kleine Jezus naar Egypte.
Zo zie je dat de LIEFDE van God de VADER ook nu een enorme haat teweeg brengt in deze tijd. Je ziet dat, terwijl het Koninkrijk van God steeds meer ruimte in gaat nemen, de haat tegen de kinderen van God groeit. We zullen ons daarom vast moeten kleven aan de Here Jezus. Er staat in de Bijbel in Psalm 63 vers 9: Mijn ziel is aan U verkleeft.
In de Bijbel staat er een schitterend voorbeeld over een steen die losraakt van de berghelling en naar beneden rolt. Hij verplettert een heel groot beeld (dat staat voor alle koninkrijken van deze wereld) en die steen groeit uit tot een grote berg die de hele aarde bedekt. Die steen gaat over de Here Jezus. Toen Hij zichzelf gaf aan de mensen om te sterven voor hun zonden en daarna op te staan uit de dood, verpletterde Hij daarmee alle koninkrijken van de aarde en ZELF groeit Hij uit tot een berg die de hele aarde vult.
De aarde wordt vol van ZIJN GLORIE!
Je kunt het vergelijken met een sneeuwbal die je van een heuvel afrolt en steeds groter en groter wordt. Er kleeft steeds meer sneeuw aan die alsmaar groter wordende sneeuwbal. Uiteindelijk maak je er dan een grote sneeuwpop van!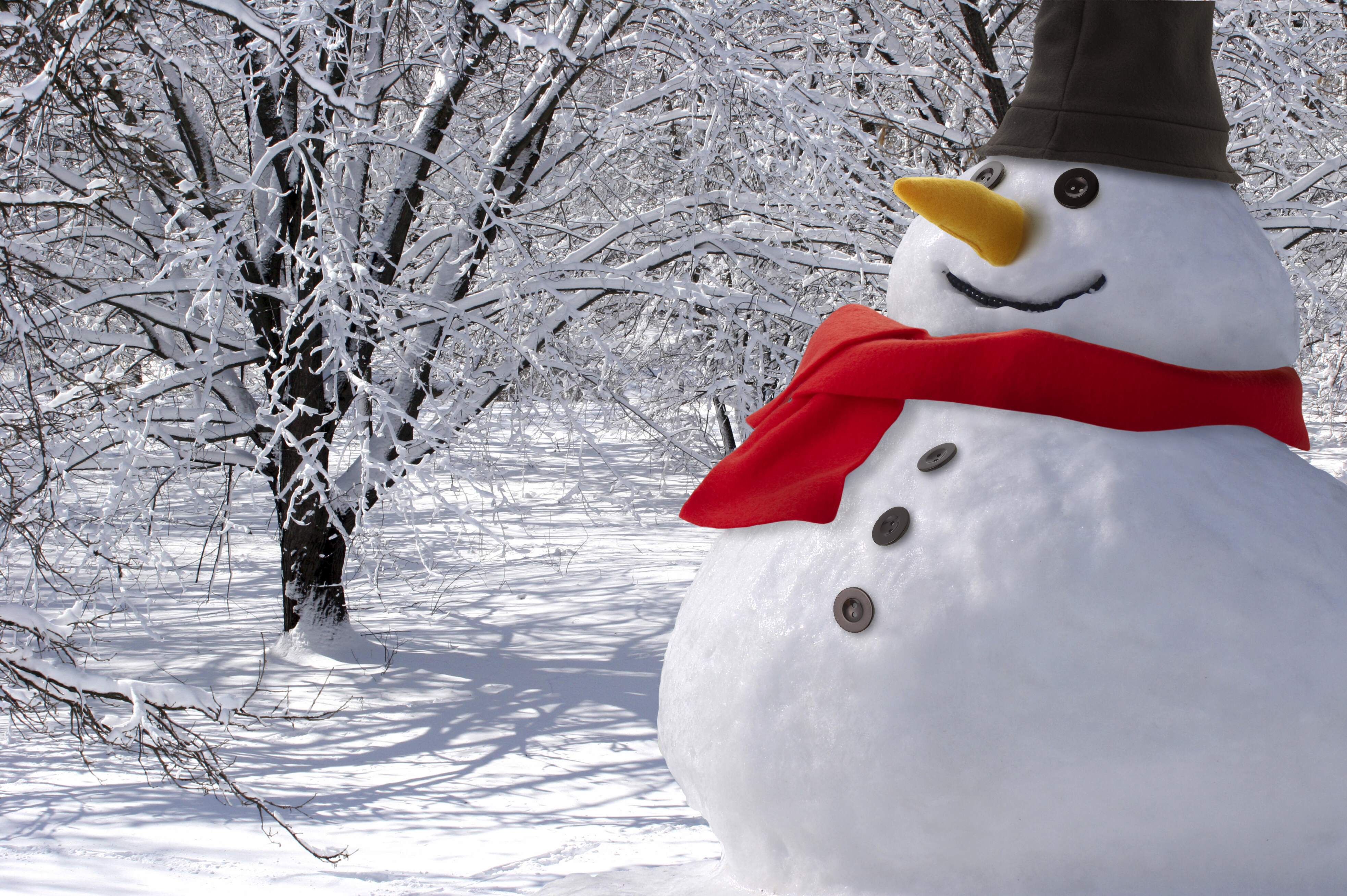 Maar stel je voor dat je niet zou stoppen met het rollen van die enorme sneeuwbal, en door zou blijven rollen, zodat die uiteindelijk de hele aarde vullen zou...Dan lijkt dat een beetje op de droom van de koning Nebukadnezar van Babel.
Ken je dat bijzondere hoofdstuk uit het Bijbelboek Daniel 2? Hier vertelt Daniël aan koning Nebukadnezar van Babel welke droom hij gedroomd heeft. Dat had God hem verteld in de nacht. De koning was zo van streek van zijn droom dat hij niet wilde vertellen wat hij gedroomd had. En daarom zocht hij iemand die hem zowel de droom als de uitleg ervan wilde vertellen. 
Daniél zei tegen de koning:
"Majesteit, u zag een reusachtig groot beeld van een mens. Er hing een oogverblindende glans omheen en het stond pal voor u. Het had een afschrikwekkend uiterlijk. 32 Het hoofd van het beeld was gemaakt van het zuiverste goud, zijn borst en armen waren van zilver, zijn buik en dijen waren van koper, 33 zijn benen van ijzer en zijn voeten waren van een mengsel van ijzer en klei. 34 Terwijl u bleef toekijken, raakte zonder toedoen van mensenhanden een steen los van de berghelling. Hij rolde op het beeld af en verpletterde de voeten van ijzer en klei. Hij sloeg ze helemaal aan stukken en verpletterde ook de rest van het beeld. 35 Zo bleef een grote berg ijzer, klei, koper, zilver en goud over. De vermorzelde delen waren zo fijn als het kaf op een dorsvloer in de zomer. De wind blies alles weg, er bleef geen spoor van over. Maar de steen die het beeld had omvergeworpen, groeide uit tot een grote berg die de hele aarde bedekte.
36 Dit was uw droom en nu zal ik u de betekenis ervan uitleggen: 37 majesteit, u bent koning over vele koningen. Dit koningschap, met alle daaraan verbonden gezag en eer, heeft de God van de hemel u gegeven. 38 Hij laat u regeren over de mensen tot in de verste hoeken van de aarde. Ook de wilde dieren en de vogels staan onder uw gezag. U bent dat gouden hoofd. 39 Maar nadat aan uw koninkrijk een einde is gekomen, zal een andere wereldmacht opstaan. Dit rijk zal kleiner zijn dan het uwe. Na de val van dat koninkrijk, zal een derde grote macht, het koper, verrijzen om de wereld te regeren. 40 Daarna komt er een vierde koninkrijk, zo hard als ijzer. Een rijk met een ijzeren kracht dat alles verwoest en verbrijzelt. 41,42 En ten slotte de voeten en tenen die u hebt gezien, gemaakt van een mengsel van ijzer en pottenbakkersklei. Zij verbeelden het daarop volgende rijk, dat echter intern verdeeld zal zijn. Er zal iets van de hardheid van ijzer in zijn, maar andere delen zullen net zo broos zijn als gebakken klei. 43 Dit mengsel van ijzer en klei betekent dat deze rijken proberen machtiger te worden door zich met behulp van huwelijken met elkaar te vermengen. Maar zij zullen niet echt een eenheid worden, want ijzer en klei verbinden zich niet met elkaar. 44 Tijdens de regeringen van die koningen zal de God van de hemel een koninkrijk oprichten dat nooit ten onder zal gaan. Niemand zal het ooit veroveren. Het zal die koninkrijken compleet verbrijzelen, maar zelf tot in eeuwigheid blijven bestaan. 45 Dit is dus de betekenis van de steen die zonder toedoen van mensenhanden losraakte van de berg. Deze steen verpulverde het ijzer, leem, koper, zilver en goud. Zo heeft de grote God u laten zien wat in de toekomst zal gebeuren. En deze uitlegging van uw droom is even waar en betrouwbaar als de droom zelf."
Je kunt het hele hoofdstuk hier lezen: https://www.biblegateway.com/passage/?search=Dani%C3%ABl+2&version=HTB
Nu ben ik al jarenlang geïnteresseerd in dit ene zinnetje:
"Maar de steen die het beeld had omvergeworpen, groeide uit tot een grote berg die de hele aarde bedekte."
WOW!!! Het koninkrijk van de HEMEL wordt hier op aarde zo groot dat het de hele aarde zal bedekken! Wat een geweldig vooruitzicht.
Maar de angst wordt steeds aangewakkerd. Ja inderdaad. De liefde verkilt. De mensen worden harder. Er worden harde woorden gesproken tegen elkaar en de een weet het nog beter dan de ander...Maar aan het eind in het boek van Daniel staat toch heel duidelijk dat we niet alles kunnen weten en begrijpen en uitleggen. Er blijft veel geheim totdat God het gaat openbaren. Tot die tijd moeten we voorzichtig blijven met al onze eigen uitleg over de eindtijd.
Er zal een periode van grote nood en zwaar lijden aanbreken. Toch zal van uw volk ieder wiens naam in het Boek staat, hieraan ontkomen. 2 En velen die al dood en begraven zijn, zullen opstaan. Sommigen zullen eeuwig leven ontvangen, anderen zullen afgewezen worden en eeuwige schande ondervinden. 3 Wie verstandig zijn, het volk van God, zullen stralen als een strakblauwe lucht. En wie de mensen tot gerechtigheid hebben gebracht, zullen schitteren als de sterren, voor eeuwig en altijd.
4 Maar, Daniël, houd deze profetie geheim. Verzegel wat u hebt opgeschreven, tot de eindtijd. Velen zullen zich erin verdiepen en men zal veel meer inzicht in deze zaken krijgen.'
Lees maar Daniel 12 https://www.biblegateway.com/passage/?search=Dani%C3%ABl+12&version=HT
Er gebeurt veel op dit moment.
De berg van Jezus' LIEFDE groeit en wordt groter en zal uiteindelijk de hele aarde bedekken. Gods Koninkrijk wint het! De Koninkrijken van de aarde zijn al gevallen door de komst en het lijden en sterven en opstanding van de Here Jezus.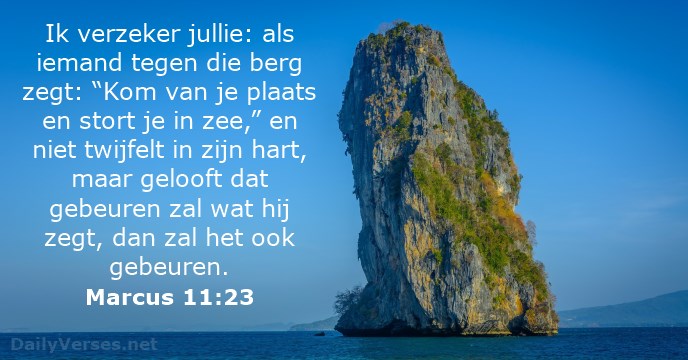 Die ene STEEN is al van de berghelling afgerold en heeft het reusachtige beeld al verpletterd. En die STEEN is al aan het uitgroeien tot een berg. Iedereen die zichzelf vastkleeft aan de Here Jezus (net als sneeuw zich hecht aan de sneeuwbal) hoort bij het Koninkrijk van God dat de hele aarde zal vullen. Er is straks geen ruimte meer voor angst en haat. Elke berg van haat en angst en intimidatie en macht en ziekte zal wijken voor de NAAM van de Here Jezus! Alles zal buigen voor Koning JEZUS!
Wat heerlijk om verkleefd te zijn aan de Here Jezus!
Wat een geweldig nieuws dat Zijn Glorie de hele aarde zal vullen!
Je proeft het al...je ruikt de hemelse geuren...je aanbidt die Grote Almachtige God en Vader!
Zorg dat je hart ook vol is van ZIJN Glorie.
Laat alle angst en onzekerheid verdreven worden door een berg van LIEFDE in je hart te laten groeien, en laat die berg steeds groter worden zodat je hele hart vol is van Liefde en kracht van de Heilige Geest!